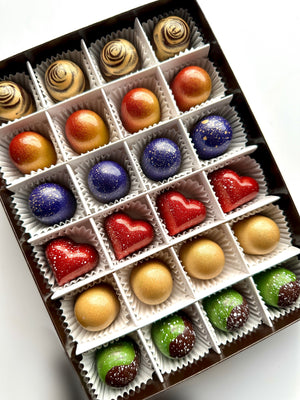 The most indulgent and unique vegan chocolates currently on the market.
WHO ARE KIND HEARTED CHOCS?
Kind Hearted Chocs is an award winning vegan business creating mouth-watering vegan chocolates that you cannot find anywhere else in the UK.
All chocolates are handmade by Jess who launched the company in April 2021. Jess started the company after feeling underwhelmed by all the vegan chocolate she had tried.
Her mission is to show that chocolate can still taste delicious without the suffering of innocent animals.
Since launching their customers have been raving about their chocolates, finding it hard to believe they are completely vegan!
Across their range you will find the most beautiful hand painted bonbons filled with unique flavours, including their salted caramel which has been a customer favourite ever since they launched. 
They have been featured in Vegan Food and Living and Vegan Life Magazine. All of their products are certified by Vegan Friendly UK.
Shop Now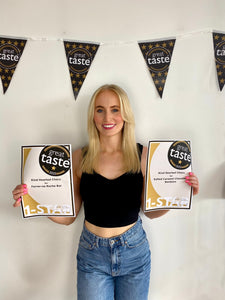 What Our Lovely Customers Say!
"The caramel is better than Nomo!"
"The best chocolates I have EVER eaten, including when I wasn't Vegan!"
"The best vegan chocolates I have tried so far!"
"Even my non vegan partner couldn't tell they aren't made from dairy"
"The exact kind of thing that's been missing in the vegan market!"
"Literally my FAVE chocolates ever I nearly cried when I ate the last one"
"They take me back to the taste of chocolates pre-vegan which I've not experienced before!"